---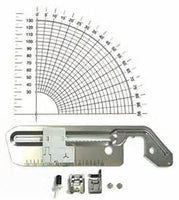 Create precise circles with our Circular Sewing Attachment, with circle radius ranging from 30mm to 130mm. A great tool for creating circles with straight stitching, zigzag, embellishing & decorative stitches.
This Attachment can sew in circular patterns that graduate out at 5mm intervals, ranging from 30mm to 130mm in radius when the centre needle position is selected. The attachment is set on the left of the needle on your sewing machine.  Utility and decorative stitches can both be sewn using this attachment.
Includes: Circular attachment, 1 screw for set-up (plus 1 spare, Braiding foot, Cording foot (3 cords), Quarter Circular Template, User manual.
Suitable for use with our NS Range and higher.