---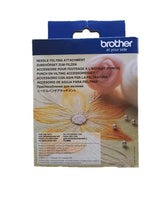 The Needle Felting Kit has an attachment that fits all V-series machines (VQ2400, VQ3000, VM6200D or XV) and quickly and securely helps you punch wool rovings, fabrics, felt or yarns into a base fabric.
The Attachment comes with everything you need to start: a needle holder and cover, presser foot, Allen screwdriver, dust box, extra needles and a yarn guide.
You will love the simplicity with which you can embellish virtually any fabric without the need for a separate machine. The dust box simply slots into the bobbin case area protecting your precious machine from stray fibres.