---
The PQ1500SL is a dream machine that belongs in the sewing room of every serious quilter and seamstress. It is a high-speed straight stitching machine, sewing up to 1,500 stitches per minute.
 The Brother exclusive adjustable pin feed mechanism ensures even-feed when dealing with problem fabrics while the adjustable feed dog levels with 4 different feed dog settings allows any fabric to easily glide through.
 Boasting a removable knee lift, optional bed extension table for quilting, automatic thread cutter with F.A.S.T. needle threader, full range foot pressure adjustment plus 7 feet for quilting and dressmaking, the PQ1500SL promises efficiency and speed.
The PQ1500SL is a high-speed straight stitching machine, sewing up to 1,500 stitches per minute. It has a fantastic workspace (5.7" height x 8.6" width) and comes complete with an extension table for comfortable management of heavy and large projects. The easily adjustable presser foot pressure and feed dog heights combined with Brother's unique pin-feed system ensures smooth consistent stitch quality with a wide range of fabric thickness or difficult fabrics such as velvet and satin. When you add in the automatic needle threader and trimming plus needle stop control, this is a truly magnificent work machine.
Key Features
1500 stitches per minute.
4 Feed Dog height adjustments.
Built-in knee lifter to easily raise and lower the presser foot, so your hands are free to re-position or remove your fabric.
Extra-large extension table.
Automatic thread cutter button and F.A.S.T needle threader.
Brother exclusive pin-feed mechanism for improved fabric management.
Features in Depth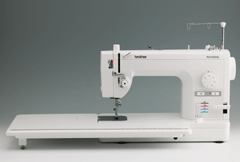 Fabric extension table
The PQ1500SL features an expanded work area for larger projects such as bulky quilts, with a workspace of 5.7" in height x 8.6" in width.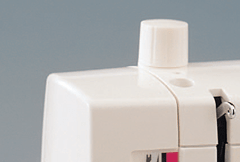 Presser foot pressure adjustment dial
Adjust the presser foot pressure knob, which is color-coded to coordinate the presser foot pressure and feed dog height. This is a great feature when stitching with different fabric thicknesses or difficult fabrics, helping to give you smooth, consistent stitch quality.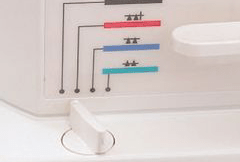 Feed dog adjuster
Using the feed dog adjuster in conjunction with the presser foot presser dial allows you to sew with ease on all types of fabric, even special fabrics such as velvet.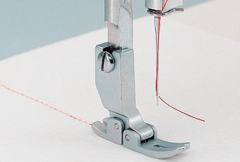 Advanced needle threading system
The Brother F.A.S.T. needle threading system takes care of threading the needle for you. It's fast, efficient, and very easy to use.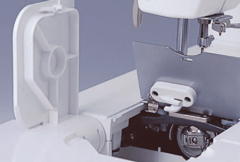 Quick bobbin threading
Change bobbins quickly and easily with the quick bobbin system, with built-in thread cutter.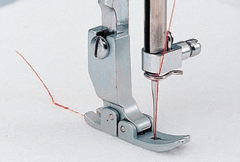 Automatic needle up/down features
The needle stops at the lowered position, for easy fabric rotation with the touch of a button. The needle stop position can also be pre-programmed to be in the up or down position when the machine stops.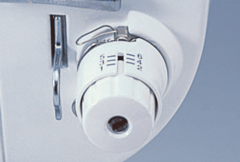 Thread tension control
Achieve accurate tension control with the convenient thread tension dial.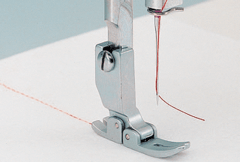 Automatic thread cutter
With the touch of a button, both top and bottom threads are neatly cut and threads are instantly reset for the next sewing operation.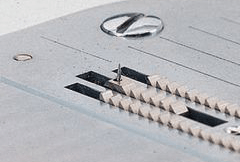 Precision pin feeding system
It's easy to sew a wide variety of fabric thicknesses thanks to Brother's Pin Feed system for precision fabric feeding.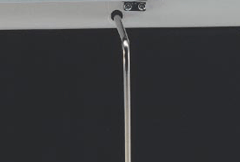 Included knee-lifter
The removable knee-lifter enables you to lift your presser foot with your knee, leaving both hands free for fabric handling.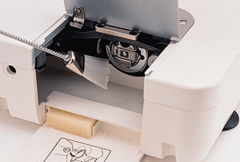 Bobbin case cover
The side cover makes care and maintenance around the bobbin case a breeze. A metal bobbin is provided for durability and increased thread capacity.
Features and Specifications
| | |
| --- | --- |
| Design | Computerised, Mechanical |
| Function | Quilting, Sewing |
| Machine Size | Medium |
| Machine Type | Sewing Machine, Straight Sewer |
| Skill Level | Advanced, Intermediate |
| Use | Business, Home |
| | |
| --- | --- |
| Accessory Compartment | Yes |
| Bobbin Type | Vertical |
| Case | Soft Cover |
| Hardware Type | Mechanical |
| Insertion of Bobbin | Quick Set Bobbin |
| Wide Table | Included |
| | |
| --- | --- |
| Adjustable presser foot | Manual |
| Maximum Sewing Speed | 1500 SPM |
| Foot controller | Yes |
| Number of Included Presser Feet | 7 |
| Number of Sewing Stitches *incl. Buttonholes | 1 |
| Pivot function | Yes |
| Sewing Arm Length | 8.5" |
| | |
| --- | --- |
| Adjustable Thread Tension | Manual |
| Automatic Thread Cutter | Yes |
| Bobbin Winder | F.A.S.T |
| Needle Threading System | Automatic |
| | |
| --- | --- |
| Machine Dimension | 440 x 180 x 300 mm |
| Weight | 13.5 kg |